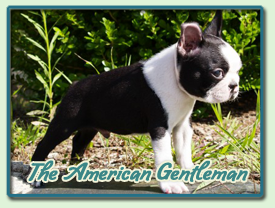 The Older Boston
As your Boston ages, discuss the physical changes with your vet. He may recommend a dog food especially formulated for the older dog. The care the dog has received throughout his life can his life can insure fewer infirmities as he ages. He will require physical exams more often to keep on top of any possible problems.
Expect to restrict his activity and he will undoubtedly snooze more frequently during the day. Stress can be avoided if the older dog stays at home, rather than be placed in a boarding kennel. Keep him warm and out of drafts with moderate exercise. Try using Alpha Keri bath oil to the final rinse in his bath to keep his skin and coat in good condition.
Lost of hearing is common and impaired eyesight may be part of the aging process. Loose teeth should be removed any you may need to soak his dry food to make it easier to eat. Also, check for constipation and make sure his is not allowed to become overweight.
This "old soul" still needs lots of love and attention. He's earned it!



- BACK TO BACK SPECIALTIES
Our Annual Back-to-Back Specialties are coming soon. Check out our EVENTS page!